Walmart AMP Expansion
Rogers, AR
(estimated completion 2020)
Walmart AMP Arkansas Music Pavilion
Rogers, Arkansas
The WalMart Arkansas Music Pavilion AMP is an outdoor music venue that serves the greater Northwest Arkansas area. The venue consists of 6.13 acres, with capacity for approximately 11,000 spectators, 3,500 of those being permanent seats beneath a 40,000 square-foot fabric tensile structure. Amenities include an entry plaza, drop-off area, climate controlled restrooms, production offices, artist's lounges, changing rooms and a 5,500 square-foot, permanent stage. The facility became the premier location for outdoor music in Northwest Arkansas. It has drawn artists such as Blake Shelton, Willie Nelson and the Avett Brothers, with a 2015 line-up including Chicago, Kenny Chesney and the Dave Matthews Band. The design of the AMP involved the master planning of the site, local regional planning for shared parking, architecture of the buildings and tensile membrane structure, landscape design for the outdoor venue, the interior design of the artist lounge and support spaces. These multiple aspects required careful coordination with the acoustical design, lighting design, and spectator site lines.
Rodeo of the Ozarks Expansion and Museum
Springdale, Arkansas
The Springdale Benevolent Foundation approached Core to help create a new vision for the future of the Rodeo of the Ozarks. This vision includes plans for a new museum and the renovation expansion of Parsons Stadium to be completely covered and safe from the elements. New box seating, a Jumbotron and upgraded concessions are all to be included in the renovation aspect of the project.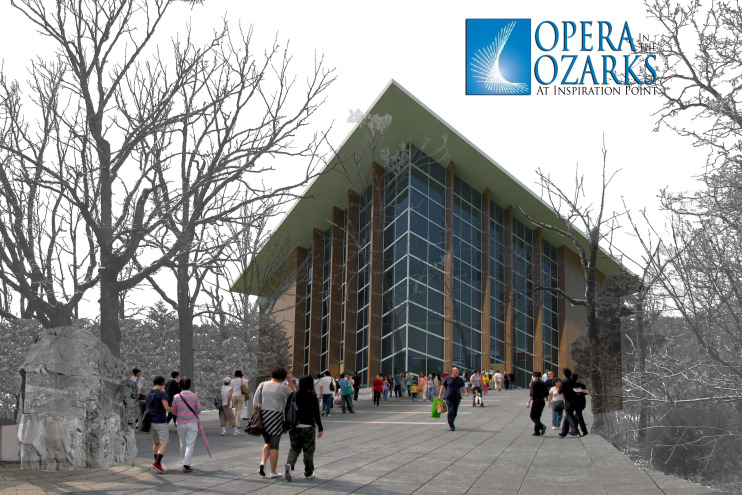 Opera in the Ozarks Master Plan and Opera House
Eureka Springs, Arkansas (with David McKee Architects)
Opera in the Ozarks at Inspiration Point retained Core Architects to provide a new master plan with beautiful schematic images for a redeveloped campus along with a new Opera House. A phased master plan was created to illustrate how the site could be altered without drastically affecting the opera season. The design for a new Opera House was also created to give this 60-year-old organization a new vision as we move forward in creating a facility that matches the world-class opera they produce.